Let's talk vanity cases. Yes, we normally use those for storing our cosmetics and beauty essentials. Have you noticed that wholesale makeup vanity box have been all over the Instagram lately? It's becoming a very big trend now to wear a make up vanity case wholesale as a handbag. The makeup vanity case trend first kicked off when Rihanna wore the vintage MCM Vanity Case as a handbag. Needless no say that the bag has sold out instantly and continued selling out for months after Rihanna carrying it.
We find the idea of wearing a large wholesale vanity case as a handbag brilliant. With brands constantly pushing new designs on us, it's so refreshing to see this old shape being repurposed. The makeup vanity bag shape is so unique. This type of travel vanity case is very different from bags that we usually see being carried and that's one of the reasons why we believe the vanity case bags are so popular right now. Moreover, with major fashion houses officially picking up the trend, we now have a larger variety of vanity cases to choose from.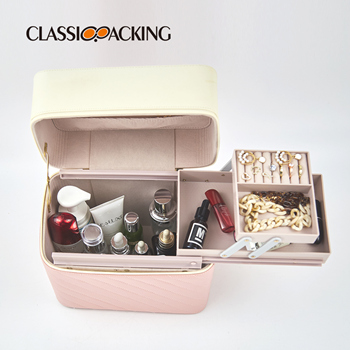 Beauty on the go! Wholesale Make Up Vanity Case. Tidy away all your make up tools in this glamorous silver vanity case. Sturdy and strong, it's made from aluminium to give maximum protection to your products. Smart chrome hinges and a white carry handle make you look tres chic! Inside, four trays pop up to help you get organized. Measuring 27cm x 37cm x 24cm it has wipe clean, internal compartments and a large drawer. That's plenty of room for brushes, foundation, lipsticks, and more! At a salon or on a film set - just lock it up when you're done. Perfect!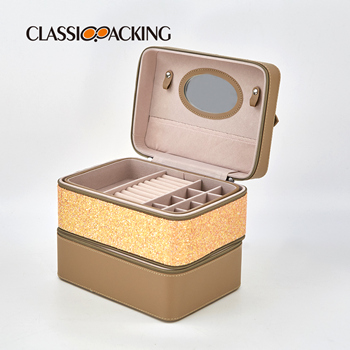 Zip and away! We love how easy it is to pack all your brushes and foundations in this chic professional cosmetic and makeup case. In stunning retro orange and brown, it's good enough to carry as onboard luggage. Organization fanatic? The two compartments give you plenty of space to fit all your beauty essentials. Lipsticks, foundation, varnish or powder. Take everything you need. Zips offer quick and easy to access both compartments.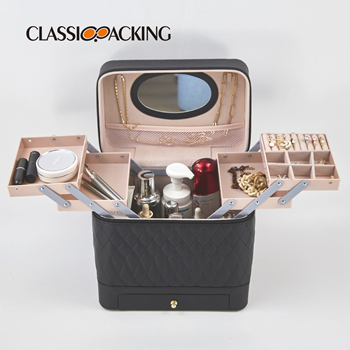 Organize your cosmetics neatly in this printed cosmetics case. This elegant black portable vanity case bag is the perfect size to be carried around wherever you go thanks to its carry handle. Wholesale Travel Vanity Case. Great for storing cosmetics and small accessories. Soft lined internal compartments and an inside mirror. The pull out drawer is perfect for jewellery. Features a carry handle for easy portability.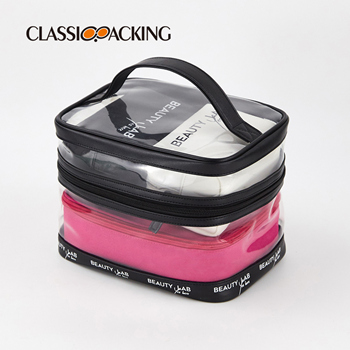 Clearly a winner! Wholesale Makeup Vanity Case. We love how easy it is to see all your brushes and foundations in this portable vanity case. Great to keep your cosmetics organized, protect them from damage and quickly find what you need. Making up a bride or yourself? There's space to pack everything you need. Open the zipper and you can take out three cosmetic bags. The transparent outer layer is very beautiful. Handy for working quickly. When you're on the move, just fold up, click shut, grab the handle off you go. So smooth!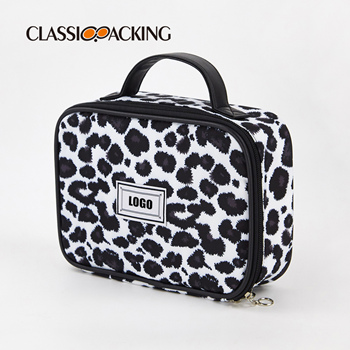 This wholesale makeup vanity box is great for keeping your make-up or nail varnish in. With many plastic trays there is plenty of space to keep everything neatly organized so it's easy to find. This vanity case also has a large bottom compartment to store more of your cosmetics. With a lockable catch with key and carry handle for easy transportation.
Looking for something spacious yet aesthetically pleasing? Get something compact but can still hold all the everyday makeup essentials in one place. We are a professional wholesale makeup bag & cosmetic bag & vanity case manufacturer with over 15 years experiencce. We've got vanity case and trollies fit for people who is always on the go, cosmetic caddies and carousels that will keep all your beauty products organized at home and of course we've got your everyday makeup bag, just the right size for all your makeup essentials so you can pop it in your bag ready for your mid-day touch-up. Please feel free to contact us at [email protected] and get your projecte started right now!