Striving to deliver the highest level of quality is at the heart of everything we do at Classic Packing. It's more than just a priority for us — it's a core part of the purpose that drives us.

Full Sets of Certificates

We are the best wholesale cosmetic bags, shopping bags and other related packing products suppliers in China and we provide quality assurance in our products. We test our products for the quality before the final delivery to the customers which has also helped us to maintain our customer base. All of our products are available to fulfill the testing (e.g. Prop65, REACH 7, ROHS, etc) according to our clients' requirements.

Full Set Of Certificates From Classic Packing

Determine Quality Standards
Except to meet the official quality standards set by an outside body such as an industry association, the local health and safety inspector, or a government regulatory agency, we can also set the quality standards for our customers. However, they must all be objectively measurable.

Except to meet the official quality standards, we can also set the quality standards for our customers.
For example, we can meet your needs in terms of what kind of testing our materials need to pass, what kind of certificate we need to obtain, what kind of environmental protection certification we need, and what kind of packaging and packing rules our products need. We will communicate with our customers and get the valuable feedback.
We will review our data regularly to see how well our company is meeting the quality standards, so that we can continually measure the results of the standards, and work to consistently improve all the standards.

Employees for Quality Control
Luckly,we have a professional quality inspection team. Each of them has many years of work experience. And before they take up their posts, our company has carried out professional training for them because our company set up a new-employee initiation program that trains workers to focus on quality issues from their first day on the job. They are familiar with various quality inspection standards and have keen insight to find defects. Besides, they can maintain good and efficient communication with all departments of our company, especially the production department.
In addition to our own quality inspection team, we also cooperate with many professional third-party testing institutions. You can also hire a reputable, certified third-party inspector that comes with recommendations from us. Request that they document everything to stay on top of your quality control.

Keep a Clean Workspace
Failing to clean up can cause injury and increase the likelihood of errors. We will always make workplace cleanliness a priority. To do this, we clearly post cleanliness standards where all employees can see them, delegate regularly scheduled cleaning tasks and bring in cleaning professionals, to keep the workspace up to par.
In addition to providing a better workspace for our employees, this clean environment will help enhance quality control and decrease risk. It will also contribute to making our entire workspace as safe, efficient and functional as possible.


Quality Control of Raw Materials
At Classic Packing, all raw materials are subjected to intense controls. Only whoever uses the best raw materials for his products can also manufacture first-class makeup bags. For this reason, the quality and safety of all the raw materials used at Classic Packing are extremely important.


High Quality Materials From Classic Packing
All raw materials are subjected to an intense and systematic quality control in our factory. This enables us to select raw materials even more carefully and use natural products of the highest level of purity – so that our customers can be absolutely certain.

Advanced Quality Inspection Equipment
Classic Packing have established a scientific production management system and rigorous quality assurance system, and use modern production equipment for processing and testing, which can effectively improve the production efficiency and ensure the consistency of the production process and product quality.

Advanced Equipment From Classic Packing

Mature and Cutting-edge Printing Methods
Silkscreen printing – Ink is pressed through special screens onto your item to leave a lasting, classic finish.
Embroidery – Digital sewing machines stitch out a logo or message onto your item to result in a high-end, stylish look.
Light Thermal Transfers – Heat presses photo-quality images onto natural or white fabrics for a photo effect.
Sublimation – Achieves full color by infusing ink into fabric through heat for a long-lasting high-quality image.
Engraving – Your logo design or brand message is laser etched onto your items.
Foil Stamping – Adheres special metallic foils onto material resulting in a sparkling finish.
Deboss – Plates press a logo into the surface of the item for a smooth, subtle effect.
Dome – Applies a full-color epoxy adhesive to almost any item's surface creating a high gloss, 3-D appearance.
Patches – Choose from embroidered, leather etched, rubber, sublimated, or woven patches for the detailed look you desire.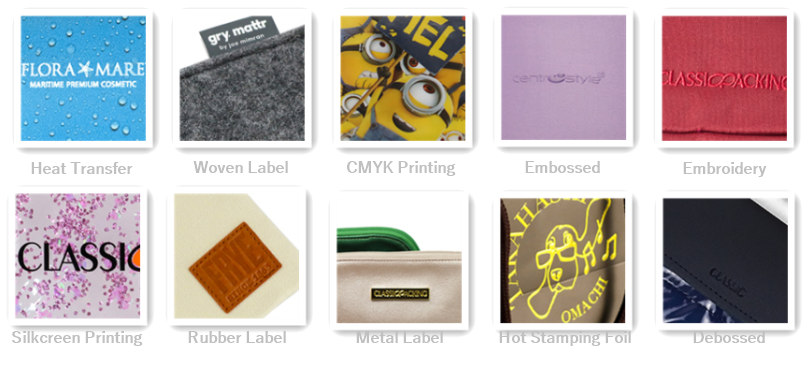 Cutting-edge Printing Methods From Classic Packing

Production Inspection
Our production operators will monitor the manufacturing process and ensure that the products meet the required quality standards. This prevents our customers receiving damaged and defective items, because problems are caught much earlier in the process than the delivery point.
First, our production engineers will routinely monitor the product design for issues. When a problem is found, it is immediately fixed. Second, in the process of mass production, we will carry out sampling inspection for many times. It can promotes actively monitoring goods at different stages of manufacturing because it can be done quickly. If a sample is deemed poor quality, we may conduct a 100% inspection of the entire stock to confirm the original report.
By the way, we welcome customers to our factory for factory inspection at any time, so that you can understand our production environment on the spot. If it is not convenient to conduct on-site factory inspection, there is no problem with remote factory inspection by means of video call.
In general, production inspection assesses the total quality of raw materials, equipment, and machinery that is used during production. These elements contribute to the creation of a final product and thoroughly inspecting them will ensure high-quality outputs.
No matter what happens at any time, our production department will communicate and connect with the sales department, and feed back the problems and solutions to our customers at the first time, so that our customers can understand the production process in time and make corresponding decisions.


Function Test
All our cosmetic bags can stand the test. They are made of excellent materials and are very durable. Our professional quality inspection team will carry out many tests before product shipment, including color fastness check,abuse & fatigue tests,seam strength tests,waterproof tests, load tests, zipper twisting tests,etc., to ensure that the quality of each cosmetic bag delivered to customers is qualified. Strict production requirements are the foundation of our good reputation.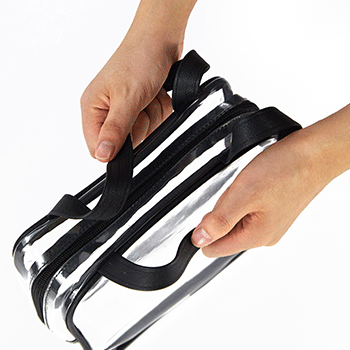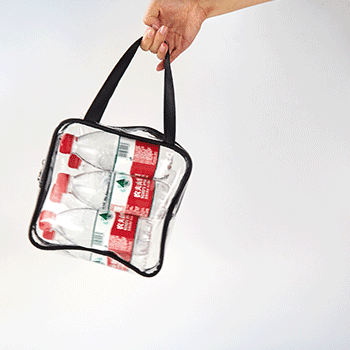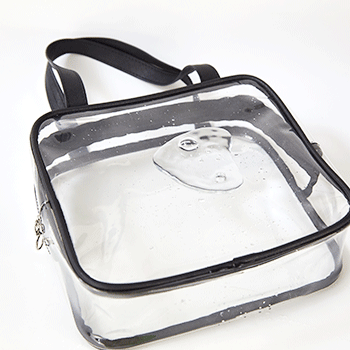 Toxic test - ProP65 or REACH


Color fastness test

Shipping and Order Fulfillment
We will use high-quality materials to package our products to reduce the loss in the process of transportation. Also, we will outsource the transportation to a reputable shipping and order fulfillment company to reduce transportation risk. Outsourcing to a fulfillment provider can save the money while improving shipping quality.

Comments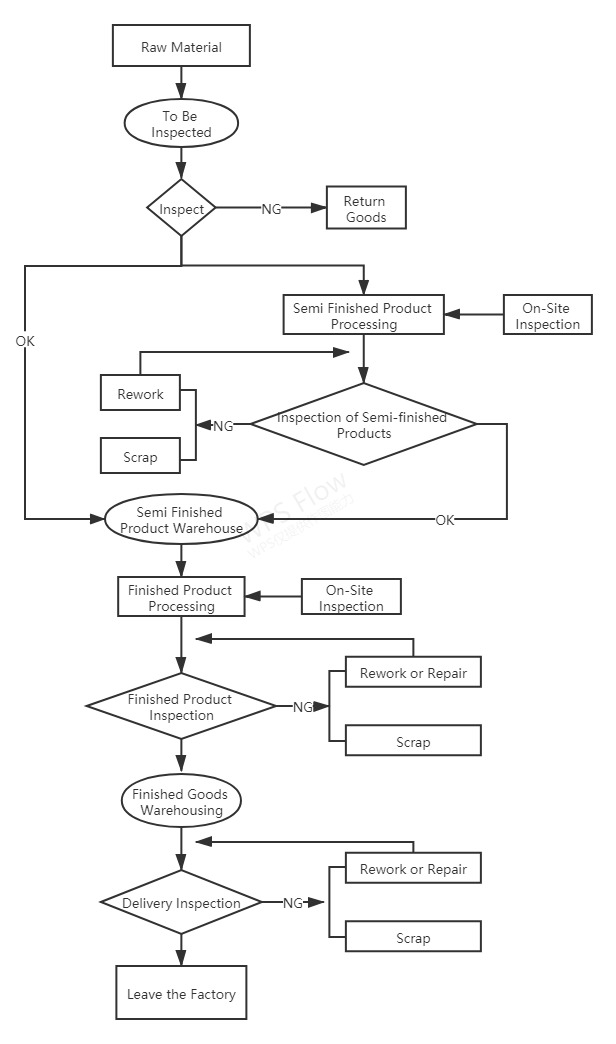 Identifying and correcting defects close to the point of origin saves time and money. At the same time, we know that quality control can guarantees that end products fulfill all production requirements so that consumer expectations can be met. So we will try out best to ensure the deliverables are correct and free of defects and focus on quality from the beginning to the end of the project.
Still confused about our quality control system? Please feel free to contact us.