For most folks who have a set beauty routine, it' s easy for the bathroom counter to get chaotic—and fast. Even the most minimalist among us need some place to organize all those beauty goods.
Need a custom makeup bag that won' t squash your perfumes or nail polish? Need a hanging custom cosmetic bag for hotels? Just want a cute little custom logo makeup organizer to stick inside your bag and not have to think about it again? Without further ado, please keep scrolling and get ready to achieve all your beauty organization dreams.
˙☆`·.·˙˙`··˙˙`··˙☆`·.·˙˙`··˙☆˙ ˙☆`·.·˙˙`··˙˙`··˙☆`·.·˙˙`··˙☆˙ ˙☆`·.·˙˙`··˙˙`··˙☆`·.·˙˙`··˙☆˙ ˙☆`·.·˙˙`··˙˙`··˙☆`·.·˙˙`··˙☆˙ ˙☆`·.·˙˙`··˙˙`··˙☆`·.·˙˙`··˙☆˙ ˙☆`·.·˙˙`··˙˙`··˙☆`·.·˙˙`·
1.Custom Professional Makeup Bag Wholesale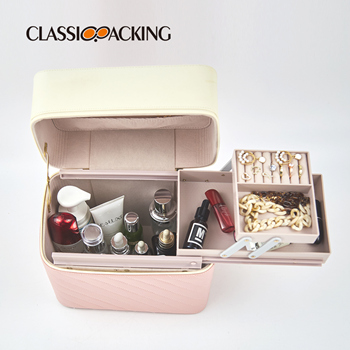 This soft (yet structured) custom makeup case is as close to professional-grade as you can get for a best price. The custom zippered bag has adjustable, removable dividers (so you can fit legit anything you want in the slots), a zippered side pocket, four elastic pouches for your brushes (or mascaras or lipsticks, etc.), and a flap that flips over and velcros everything snugly in place.

2.Clear Custom Makeup Bag Wholesale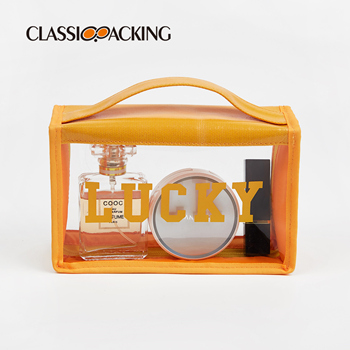 No More Rummaging! With this semi-clear custom makeup bag, you can easily spot your favorite lipstick or eyeshadow in an instant. As a bonus, each case is made using one upcycled plastic water bottle, making this bag a go-to for the sustainable shopper. You can also add a custom monogram to personalize it, either for yourself or for anyone on your holiday shopping list.
3.Drawstring Custom Cosmetic Bag Wholesale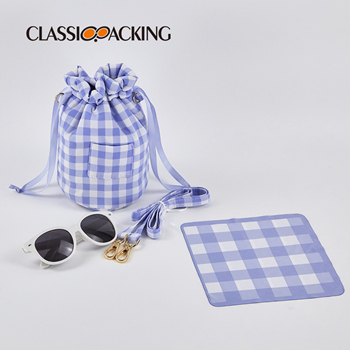 We love a good travel makeup bag, but sometimes they're hard to stuff into our packed suitcase or a backpack.
Enter: this purple check custom cosmetic bag, which is lined with elastic pockets to keep all your makeup products in place and standing upright (v necessary for all those liquid foundations). When you're ready to pack, just roll up the top, pull the drawstring tight, and boom—you've got yourself a squishy little bundle.
4.Custom Wholesale Makeup Bag For Travel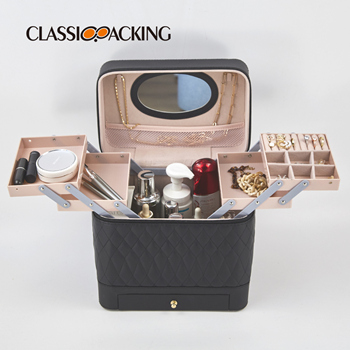 This travel wholesale custom makeup bag is not only hard-shelled with a full lid mirror, but it also has a top tray that slides out, so you can keep bobby pins, earrings, or hair ties on top, and your bigger makeup products underneath.
5. 3 in 1 Custom Cosmetic Bag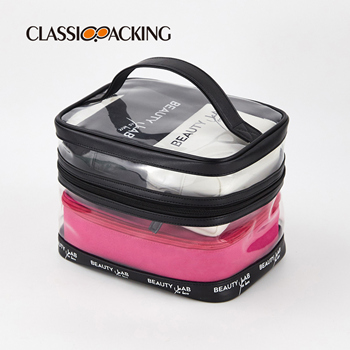 Pretty much nothing delights us more than a bigger makeup bag that's filled with bb-size custom makeup bags. Please just gaze upon this zippered cosmetic case, which comes with three detachable zippered cubes. It's an organizer's dream.
6.Holographic Custom Cosmetic Bag Wholesale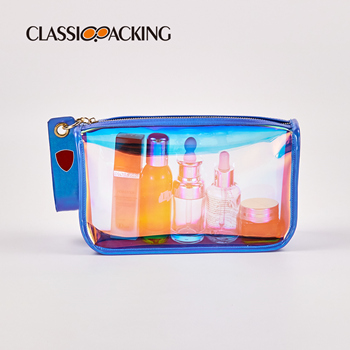 We highly recommend making the switch to this zip-top holographic custom makeup bag that not only looks iridescent, but will also stay cute, thank to its wipeable plastic shell.
7.Double-deck Wholesale Custom Toiletry Bag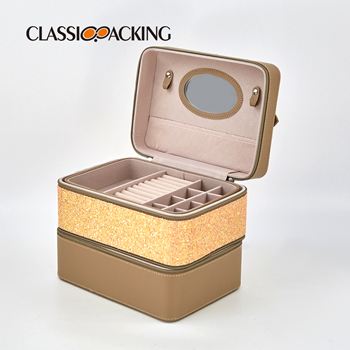 This hard-shell custom cosmetic bag wholesale is a must if the majority of your beauty products are breakable or fragile (those fragrances and fancy face moisturizers). The zippered top houses a tiny mirror and three elastic holders, while the base unzips to safely store anything you don't want to risk getting smashed or broken.