Content

1. Introduction
2. Main bag industry regions
3. 10 Best and Trusted Bag Manufacturing Companies in China
3. How You Can Choose a Trusted Bag Manufacturer in China
4. What Factors Should You Consider When Choosing The Best Bag Manufacturing Factory in China
5. How to Verify a Bag Manufacturer?
6. Why Choose a Bag Manufacturer in China?
Main Bag Industry Regions in China
Many bag manufacturing factories in China are popular due to their distinctive features, less cost, expertise, and OEM & ODM products. Where is the best place to find a bag supplier in China? It's a good idea to become familiar with the bag manufacturer industry regions to get a broad picture.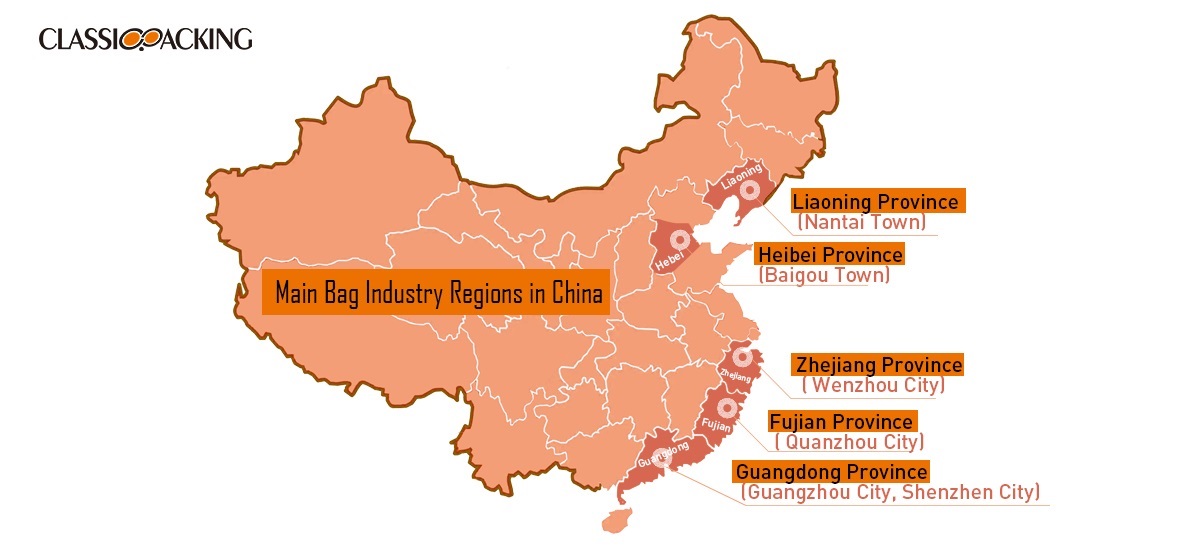 Here are the five provinces that are home to the majority of China's bag manufacturer industry:

Guangdong Province (Guangzhou City, Shenzhen City)

The largest bags production base in China is Guangdong Province. The bag industry is mainly distributed in Huadu District of Guangzhou City, Panyu District of Guangzhou City, other districts of Guangzhou City and Shenzhen City. The bag industry cluster in Guangdong Province is also known for its complete industrial chain, and its raw and auxiliary materials market is very large.
Zhejiang Province ( Wenzhou City)
The second largest production base of bag is in Zhejiang Province, which is the second largest leather bag production province, accounting for a quarter of the total output of leather bags in the country. The leather goods industry is one of the traditional industries in Zhejiang, characterized by low processing costs and fine workmanship. Zhejiang Luggage Manufacturing Base is located in the beautiful city of Cangnan, Wenzhou City, Zhejiang Province, which is an important production base of leather products and shoemaking in China. It has a long history and good reputation in the industry.
Heibei Province (Baigou Town)
Baigou Town, under the jurisdiction of Gaobeidian, Hebei Province, is located in the hinterland of Beijing, Tianjin and Baoding Triangle. It has developed into a modern large-scale manufacturing base for luggage with production capacity of half a million pieces per year. There are 20 categories of bags and more than 1,000 varieties of designs and colors. 150 large-scale enterprises and more than 3,000 individual processing enterprises have formed a large-scale production capacity with an annual output of 150 million bags, accounting for about one-fifth of the country's total production and sales.
Liaoning Province (Nantai Town)
Nantai Town in Haicheng, Liaoning Province is the largest distribution center for luggage in Northeast China. Located between Shenhai Expressway and Shenyang-Dalian Railway, it has convenient transportation and extends in all directions. With nearly 200 luggage related enterprises, Nantai Town has become a key national industrial base for luggage production and research & development. There are nearly 200 bag-related enterprises in the town, such as luggage processing, hardware accessories, auxiliary material processing, plate-making and printing.
Quanzhou
Quanzhou is located in Fujian Province, 80 kilometers (50 miles) north of Fuzhou. It has a population of 3 million and is a manufacturing center for bags, clothing, etc. Quanzhou mainly manufactures sports and leisure bags now. In addition, there is no integrated industrial chain in Quanzhou. The costs of materials are relatively higher compared with other regions because so many companies need to rely on the supply of materials from other provinces. It means that the price competitiveness of Quanzhou is quite low in the development period. However, the major export market focuses on lower-end goods abroad.

The 10 Best and Trusted Bag Manufacturing Companies in China are as follows: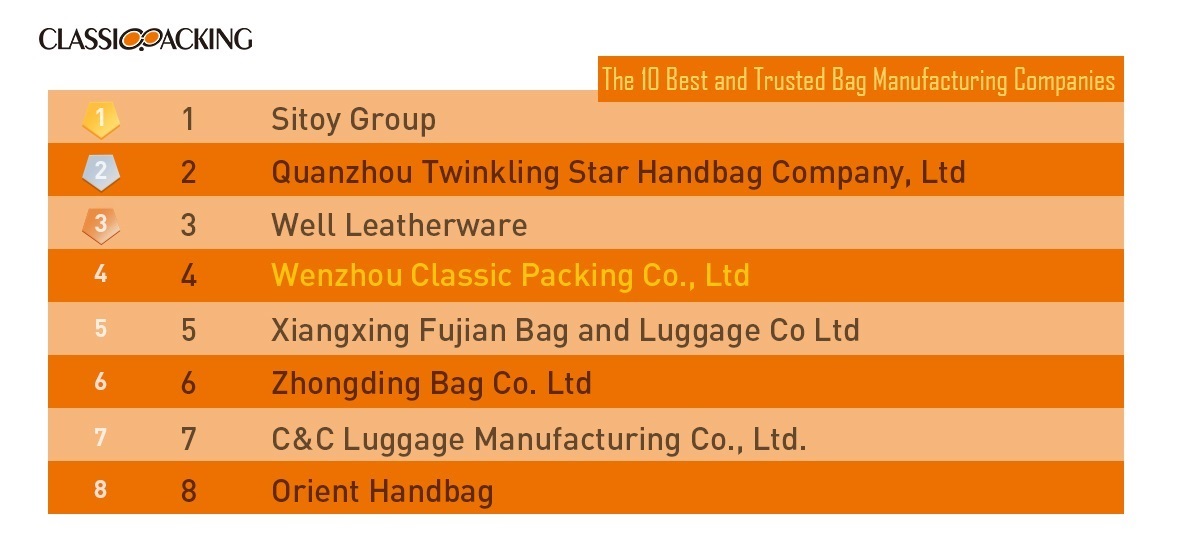 · Sitoy Group
· Quanzhou Twinkling Star Handbag Company, Ltd
· Well Leatherware
· Wenzhou Classic Packing Co., Ltd
· Xiangxing Fujian Bag and Luggage Co Ltd
· Zhongding Bag Co. Ltd
· C&C Luggage Manufacturing Co., Ltd.
· Orient Handbag
· Quanzhou Ziyan Light Industry Co., Ltd
· Hilltop (Hangzhou) Co., Ltd.

How You Can Choose a Trusted Bag Manufacturer in China
If you are looking for a trusted bag manufacturer in China, you will surely have unlimited options. This selection is because of the availability of a large number of bag manufacturers. But you must know that only some manufacturers are trustworthy.
Among them, most are scammers that may try their best to make you a fool. Making a deal with such scammers can lead to loss. Therefore, you must do proper research before choosing a bag manufacturer. The following process will help you choose a trust-able bag manufacturer in China.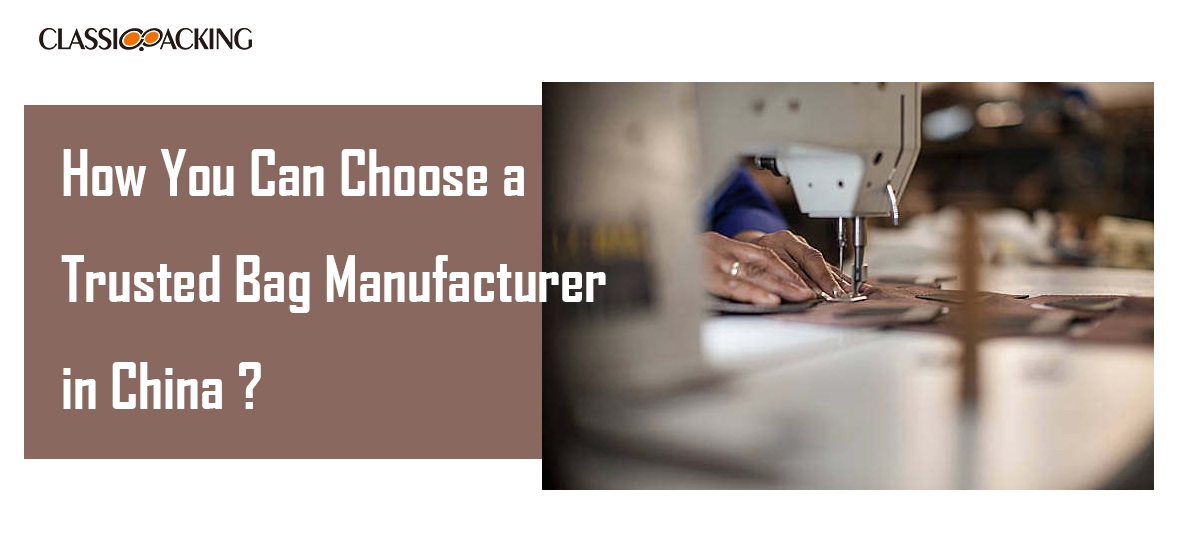 1- Don't Rush:
Rushing into manufacturers can only result in scams and traps. If you instantly choose a manufacturer without gaining enough information, then it can be an invitation to scammers. You may need to get the desired quality or even the products. Therefore, you must initially make a list of bag manufacturers and visit them one by one. You should know about them from the available authentic resources if you cannot visit them. This will helps greatly in choosing a trusted manufacturer.


2- Budget Estimation:
While choosing a trusted bag manufacturer, you should keep in mind your budget. You must create a budget to avoid the extra expenditure of money. Most fraud manufacturers may offer products at a high cost. If you don't create a budget, then you may receive poor-quality products at expensive rates. Try to deal with the manufacturers that provide the bags at the exact rates. Providing products at good prices is a major sign of a trustworthy manufacturer.


3- Choose a Manufacturer Producing a Wide Variety of Bags
Manufacturers that manufacture a large variety of different types of products are also considered trustworthy. Large-scale production clarifies that they must deal with a large number of customers. Dealing with many customers is only possible when you promptly fulfill their requirements. Choosing such manufacturers can surely meet your expectations.


4- Referrals:
Before finalizing your deal with a bag manufacturer, you must discuss it with businessmen having similar interests. They can provide you with the best possible information based on their experience. In this way, you can find and purchase the bags from a trusted bag manufacturer.


5- Make a List of Different Bag Manufacturers:
Making a list can help you to choose a suitable manufacturer wisely. You must make a list of the top bag manufacturers in China. After making a list, compare them with one another. It will allow you to choose the one that provides high-quality bags under your estimated prices.


What Factors Should You Consider When Choosing The Best Bag Manufacturing Factory in China

The followings are the crucial factors that must be considered when choosing the best bag manufacturers in China.


1- Manufacturer's Communication Skills:
Communication skill is the most important factor in choosing a manufacturer in China. He must have enough confidence to explain his point in simple ways clearly. He must have good communication skills and can give responses on time.


2- Check the Data of the Company:
Before choosing the bag manufacturer, you must check the documents and license of the company. It includes checking the certificates of products, the scope of business, and registered capital. You can trust the manufacturer if you become satisfied with all the terms.


3- Whether the Company Provides Branding Options:
You must know whether the manufacturer will provide the bags branded with your name or logo. They must be able to print your demanded personalized logo on the bags efficiently. Moreover, they must also provide branding, labeling, and printing options.


4- Check the Possible Shipping Options:
Considering the available shipping options is crucial before confirming the deal with the manufacturer. After checking the shipping methods, check their shipping cost and time. Always choose a manufacturer that offers multiple shipping options with fast delivery time at cost-effective rates.


5- Check the Product Regulations and Specifications:
You must check the type of material that the manufacturer used in manufacturing the bags. Similarly, you must also check the specifications, including strap detail, compartment numbers, dimensions, lining, standards, and the bag's design. If they lie within your expectation, you can go for this manufacturer.


How to Verify a Bag Manufacturer?


Being scammed by manufacturers is among the most common problems in China. To avoid scams, you need to verify them. The following tips prove helpful in manufacturer verification.


1- Visit the Company:
Visiting the company by yourself is the best way to verify it. Through this, you will get detailed information about the company. Nothing will be hidden from your sight. It automatically enhances the reliability of the products as well as the manufacturers.


2- Request for Bag Samples From Manufacturers:
Requesting a sample piece is among the best ways to check whether the manufacturer is trustworthy. The quality of the sample indicates the quality of whole varieties of bags. It will determine the bag's quality and show the manufacturer's work ethic and craftsmanship. If you become satisfied, then you can fearlessly choose it.


3- Check the Reviews:
Checking the review can help greatly in determining the authenticity of a manufacturer. Check the reviews that they got from other companies or customers. You can also ask them to show their company reviews. Good reviews indicate a verified manufacturer.


4- Check the Payment Terms:
Most manufacturers demand advance payment before providing your products. Commonly, you are asked to pay 50% of the total amount. If any manufacturer forces you to pay the full amount before providing the bags, it indicates that he is not trustworthy. Avoid making connections with such manufacturers.


5- Check the Registration Number of the Company:
China manufacturers are given specific registration numbers for their companies. They got the registration number after registering with the government. This number is crucial for company verification. You can check it on the Chinese government's website. If you are still looking for it on the website and the company refuses to show it, understand that it needs to be verified.


Why Choose a Bag Manufacturer in China?
It would be helpful if you chose a bag manufacturer in China for the following reasons.


Large Options of Manufacturers:
China has a large number of bag manufacturers. So, you can choose a suitable one from this wide range of options.


Market Expansion:
One of the dominant reasons for choosing a China manufacturer is that you can effortlessly expand into foreign markets. Folks throughout the world show more interest in Chinese products.


Low Cost of Production:
The main reason behind choosing a China bag manufacturer is that you can get a variety of bags at much less cost than the companies of other countries. It can enhance your margin of profit.


High Output in a Short Time:
The manufacturers of China are known for producing large volumes of products in less time. Thus, it ensures you receive your ordered product on time.